Easter is like Christmas but with lots of eggs. And bunnies. So make some space in your tummies for the forthcoming scrumptious feasts and copious amounts of chocolate eggs. For those of you in town for the Easter break, check out these fun and friendly options for the whole family to enjoy.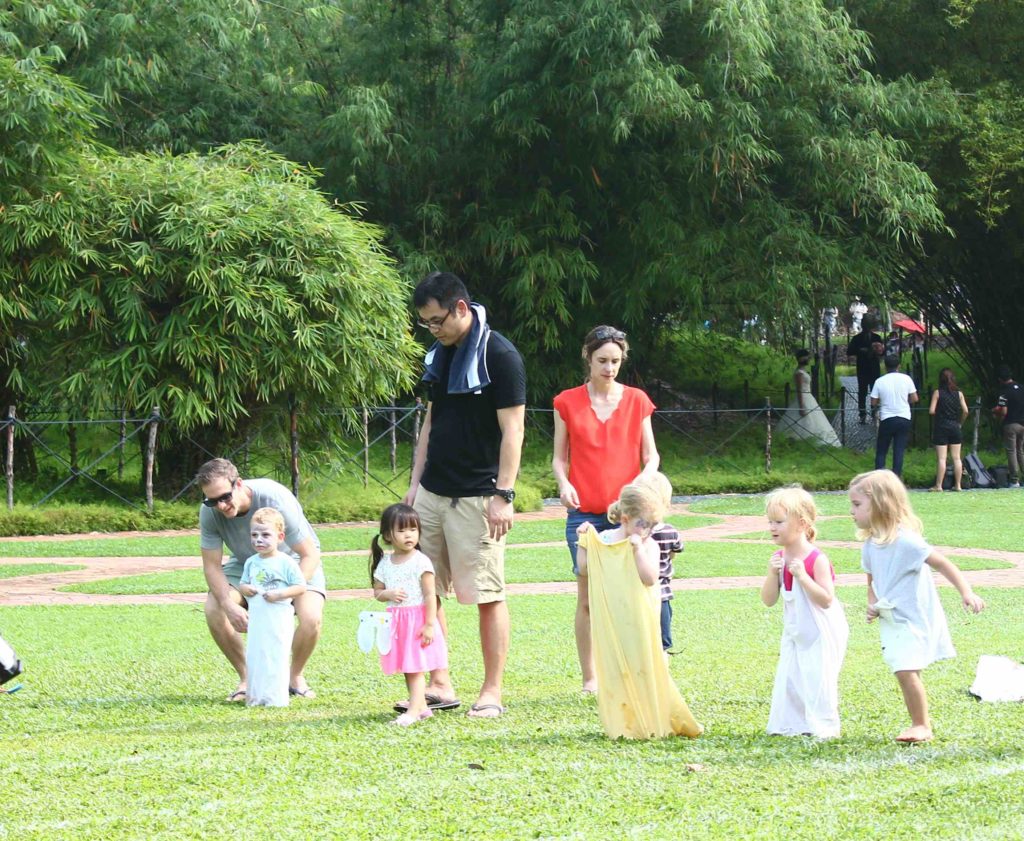 The Party Elves are back with another energised child-focused event. Celebrate Easter with close friends and family at Buzz in the Woods where kids 2 years and above can expect an array of Easter-themed activities including sack races, face painting, decorating Easter eggs and of course the signature egg hunt! Parents and kids under 2 years enjoy free entry. Get ready to party with the elves!
Date: 1 April
Time: 9am-12pm
Location: Buzz in the Woods,
320 Tanglin Road,
Singapore 247980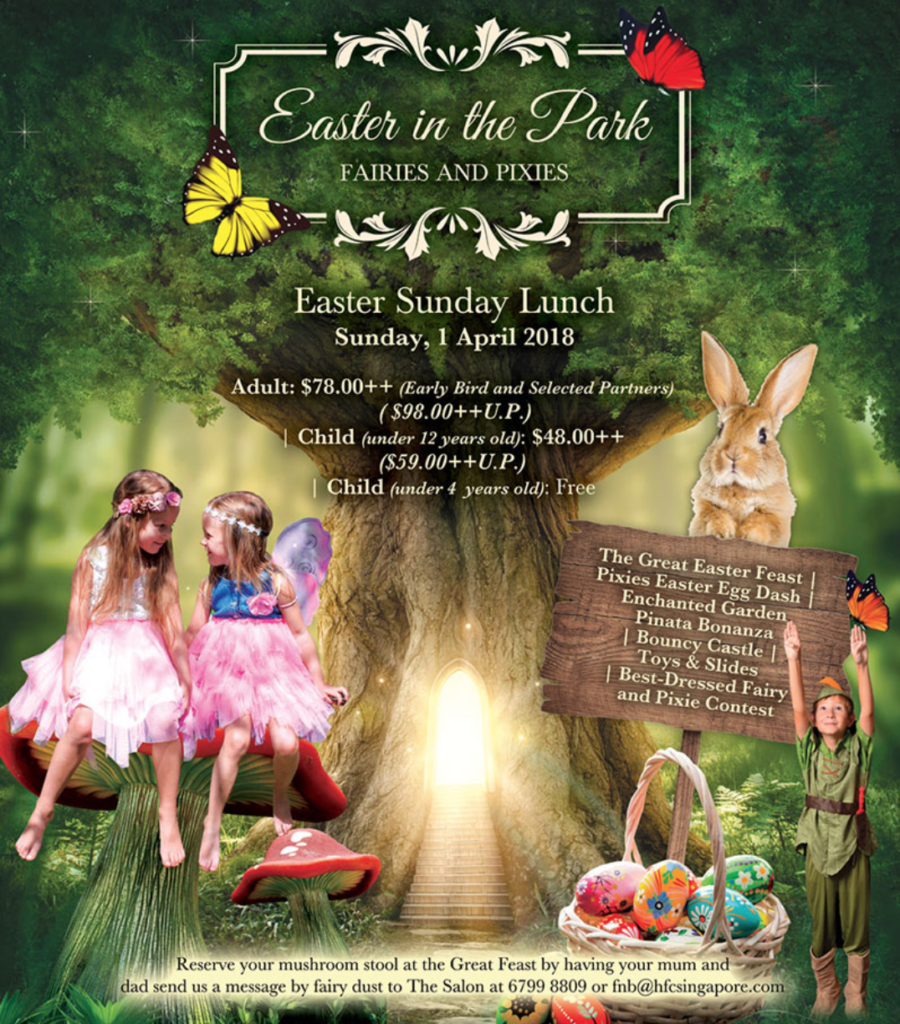 What's Easter Sunday without an exciting line-up of activities for the entire family including a scrumptious Easter buffet spread? Join this year's annual fairy and pixie-themed Easter in the Park event at Hotel Fort Canning where kids of all ages can look forward to an afternoon of fun and games including the Pixies Easter Egg Dash, a best dressed fairy and pixie contest, a bouncy castle (of course) and even an Enchanted Garden Piñata Bonanza. Call and reserve your mushroom stool today!
Date: 1 April 2018
Time: 12-3pm
Location: Hotel Fort Canning,
11 Canning Walk,
Singapore 178881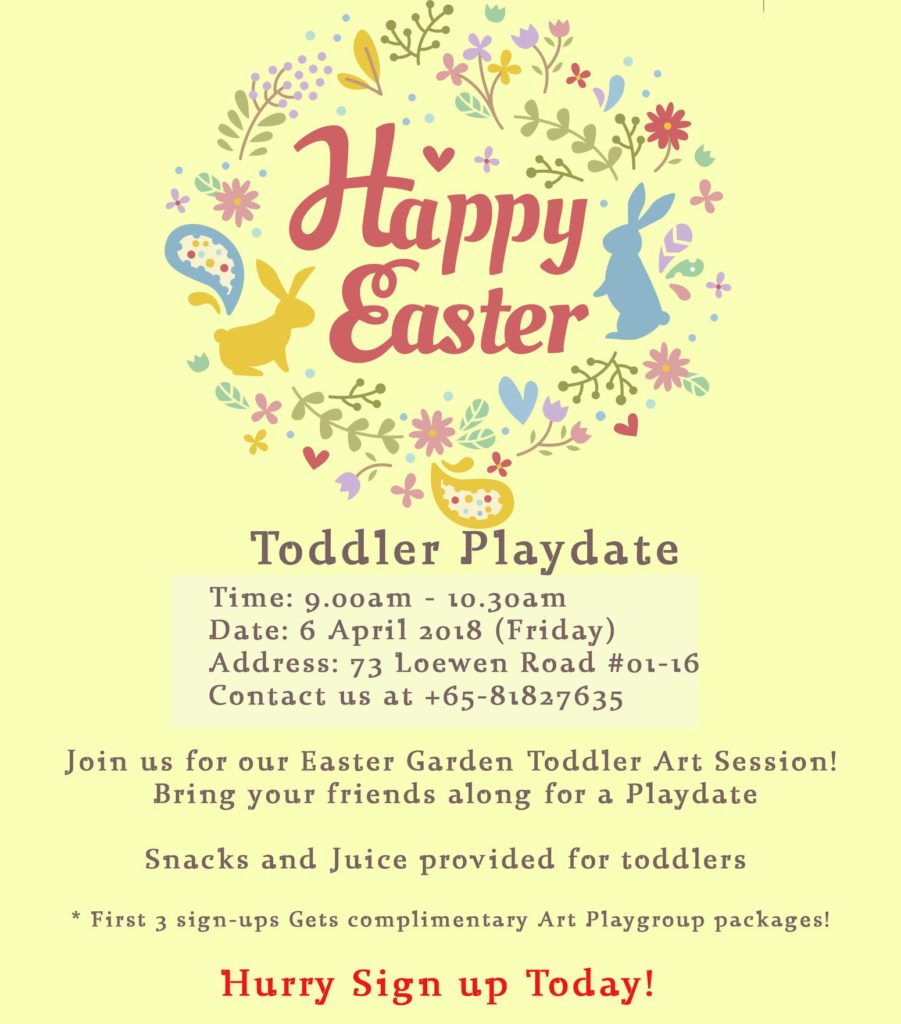 Easter celebrations are all about bringing the family together whether there's fun activities involved or good food to be had. Impressions Art Studio wants to get in on the action by offering a complimentary toddler playdate at their art studio. Bring your little ones for an Easter Garden-themed session where they can create and explore at their own pace. Adults, we have three words for you. Complimentary Drink Bar!
Date: 6 April 2018
Time: 9-10:30am
Location: Impressions Art Studio,
73 Loewen Road,
#01-16,
Singapore 248843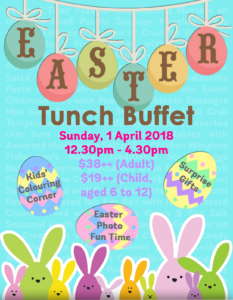 What do you get when you combine tea and lunch? Tunch of course! Bring your entire family down to the Metropolitan YMCA Easter weekend for a delicious Tunch buffet. Kids will have a range of fun activities to keep them busy including a colouring corner and a photo-booth where they can pose for pics to their heart's content. Parents, make use of this time to enjoy an endless array of goodies. Happy Easter indeed!
Date: 1 April 2018
Time: 12:30-4:30pm
Location: Metropolitan YMCA Restaurant,
60 Stevens Road,
Singapore 257854

At times Singapore can feel like an urban jungle and when that happens one yearns for the great outdoors. Well now you can take a trip to the Kranji Countryside Farmer's Market where you can get a fill of farm life. Come Easter weekend, head on down to participate in fun family activities like an Easter egg hunt while scouring for the best in fresh farm produce. And when you've all worked up an appetite, be sure to enjoy a hearty farm-to-table prepared meal.
Date: 31 March – 1 April 2018
Time: 10am – 4pm
Location: The Nyee Phoe,
240 Neo Tiew Crescent,
Singapore 718898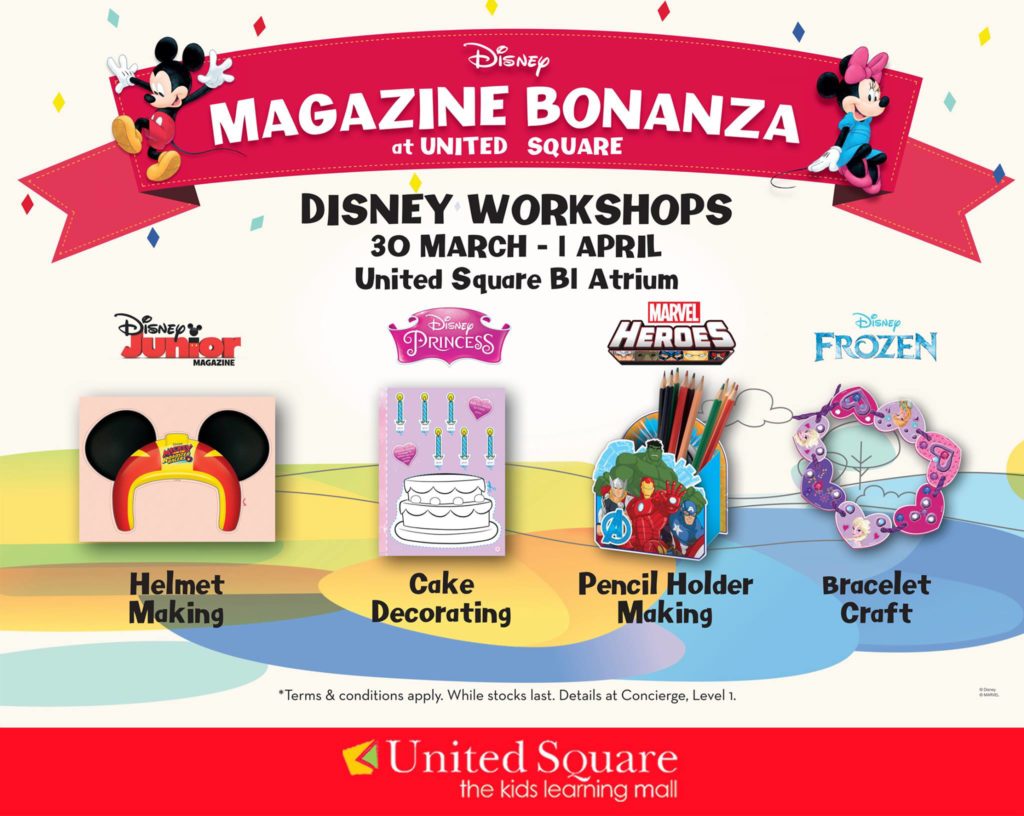 United Square is known to be a kid-friendly mall filled with educational shops and buzzing with entertaining shows for little ones. Now parents can combine their retail receipts between 9 Mach-1 April and redeem a Disney Magazine Bonanza Pass for their kids to participate in 4 Disney-themed workshops. From cake decorating to helmet making and pencil holder making to bracelet crafts, kids will be sure to have a blast of an Easter weekend!
Date: 30 March – 1 April 2018
Time: 10am – 5pm
Location: United Square,
101 Thomson Road,
Singapore 307591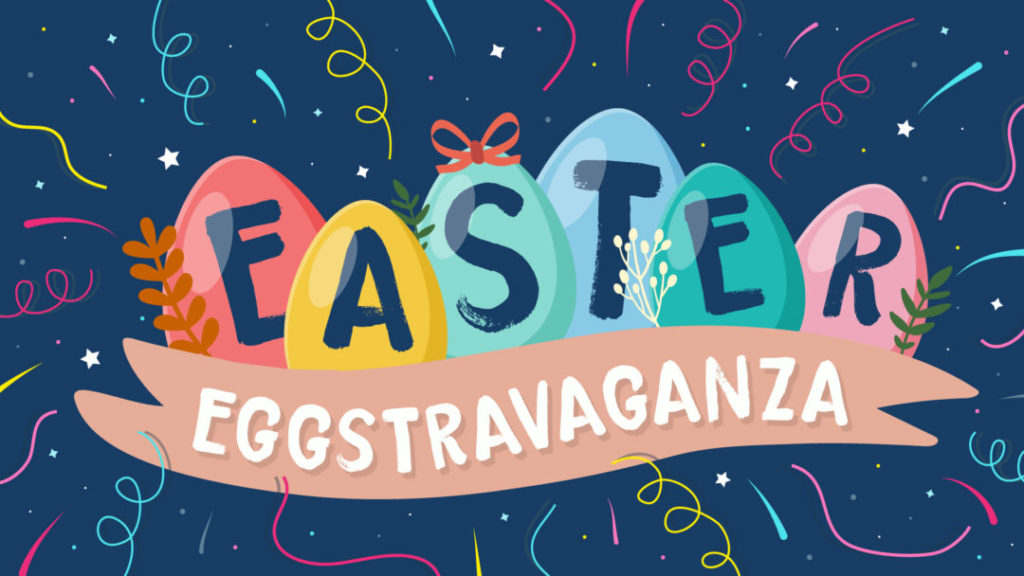 What is Easter all about and why is it celebrated? Let kids learn all about this wonderful holiday through a series of fun games and activities which will unlock 3 of the 12 giant eggs every Sunday till 1 April. Parents can lounge about and enjoy light snacks and tea while kids can chomp away happily on free popcorn!
Date: 18, 25 March & 1,8 April
Time: 10-12pm
Location: The Axis,
Textile Centre,
200 Jalan Sultan,
#04-24,
Singapore 199018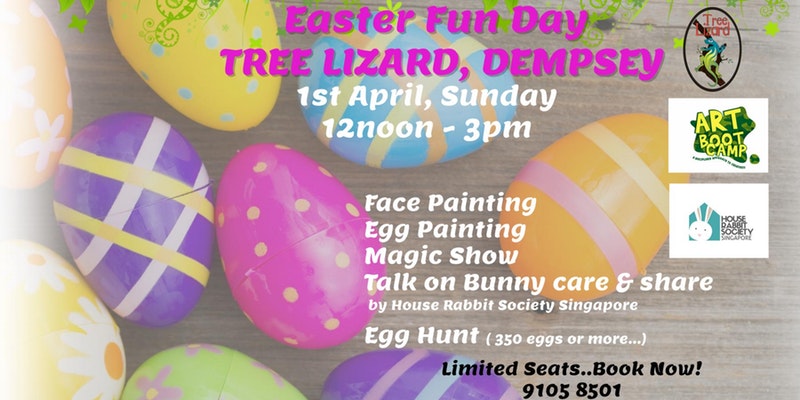 Imagine 350 eggs are waiting to be found by little kids? Tree Lizard's annual Extravaganza Easter Egg Hunt is back bigger and better than ever! Kids will be delighted to find chocolates, toys, prizes and amazing surprises in each egg. In addition to the egg hunt, there will also be a magic show and an egg painting contest. For those little kiddies looking to take a little bit of easter home with them, House Rabbit Society Singapore will be on site to talk about caring and loving rabbits and adoption options. So book early for a day of Easter Fun!
Date: 1 April 2018
Time: 12-3pm
Location: Tree Lizard Restaurant & Bar,
B1-01,
25 Dempsey Road,
Singapore 249670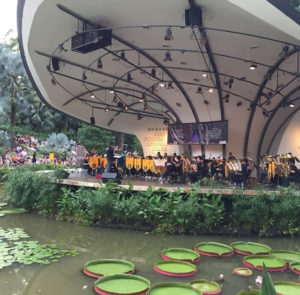 Music is an education unlike any other for it crosses all barriers of ages and backgrounds. So make this Sunday a memorable one by bringing your entire family down to the Botanic Gardens to listen to a Jazz concert unlike any other. Be prepared to be entertained by New York and local jazz stars along with their students. A real treat for music lovers both professional and otherwise!
Date: 1 April 2018
Time: 4:30 – 7:30pm
Location: Singapore Botanic Gardens,
Shaw Foundation Symphony Stage,
Singapore Botanic Gardens,
1 Cluny Road,
Singapore 259569