Where there are children, there will be climbing. This is a fact parents better get used to but what if this potentially dangerous scenario could happen in a safe and sound environment? Drumroll please while we introduce you to your new best friend this summer break, Clip 'N Climb HomeTeamNS, Singapore's first indoor climbing theme park located at HomeTeamNS Tampines.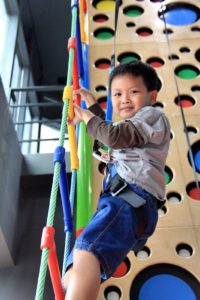 After you are done with all the mundane stuff like tickets and introductions, and before you are cleared to go climbing on your own, therein, comes the vital safety briefing and "training" that particularly, and for good reason, emphasises the absoluteness of proper harnessing. Now the trained instructors at Clip 'N Climb HomeTeamNS take this stuff very seriously ensuring that each participant is well aware of how to attach the carabiners at every point. You will be instructed to shout "Check Me" so staff can confirm you are securely clipped and asked to yell "Watch Out" on your descent so others can be warned.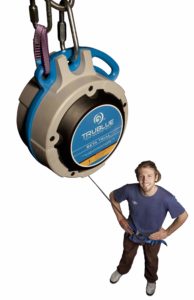 Once you've become confident in latching and unlatching the carabiners and feel ready to take on the world, there are 19 rock climbing walls of varying difficult ratings for you to choose from. Although there is no minimum age required, kids need to be 10kg + to harness up.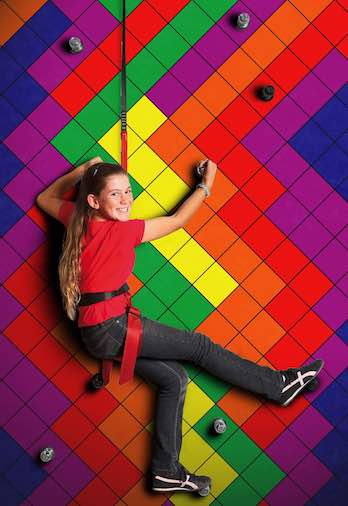 It may sound like just another indoor playground but it really encompasses a whole lot more. Not only are kids able to get a physical workout exercising their gross motor skills but they are also, enhance their mental skills such as problem solving to test. In addition, parents are encouraged to become involved in the climbing feat and take on the challenges side by side or since they have an entire wall named for it, how about Face-to-Face? If your child's got a competitive streak in them, introduce them to the Speed Climb, which has a timing device on it allowing him/her to battle with the other person for a better time. There's also the Morse code adorned with flashing lights, the Spaghetti Junction which true to its name has several dangly ropes hanging around it and even a Dry Ice wall where you need to use "ice picks" (a pair of wooden sticks) to climb up.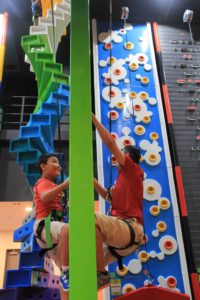 We doubt that the kids will have any energy left whatsoever after wall climbing for more than hour, but of the slight chance they do, head on over to the HomeTeamNS LaserQuest Arena. After an intense 10-minute laser tag mission, feel free to call it quits.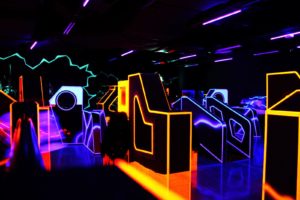 And there you have it; an action packed adventure where parents and kids of all ages and levels are stimulated to the core and beyond.
Browse our directory for more fun and exciting family activities!