This month is best remembered for the fact that it's before Christmas but we're here to show you that November has its own fun up its sleeves. Be it sports, academics, arts and crafts or drama, there's bound to be something for all the kids during the November Holiday Camps as well as December Holiday Camps! So let your break take a break from boredom and fill it up with fun, exciting and educational activities.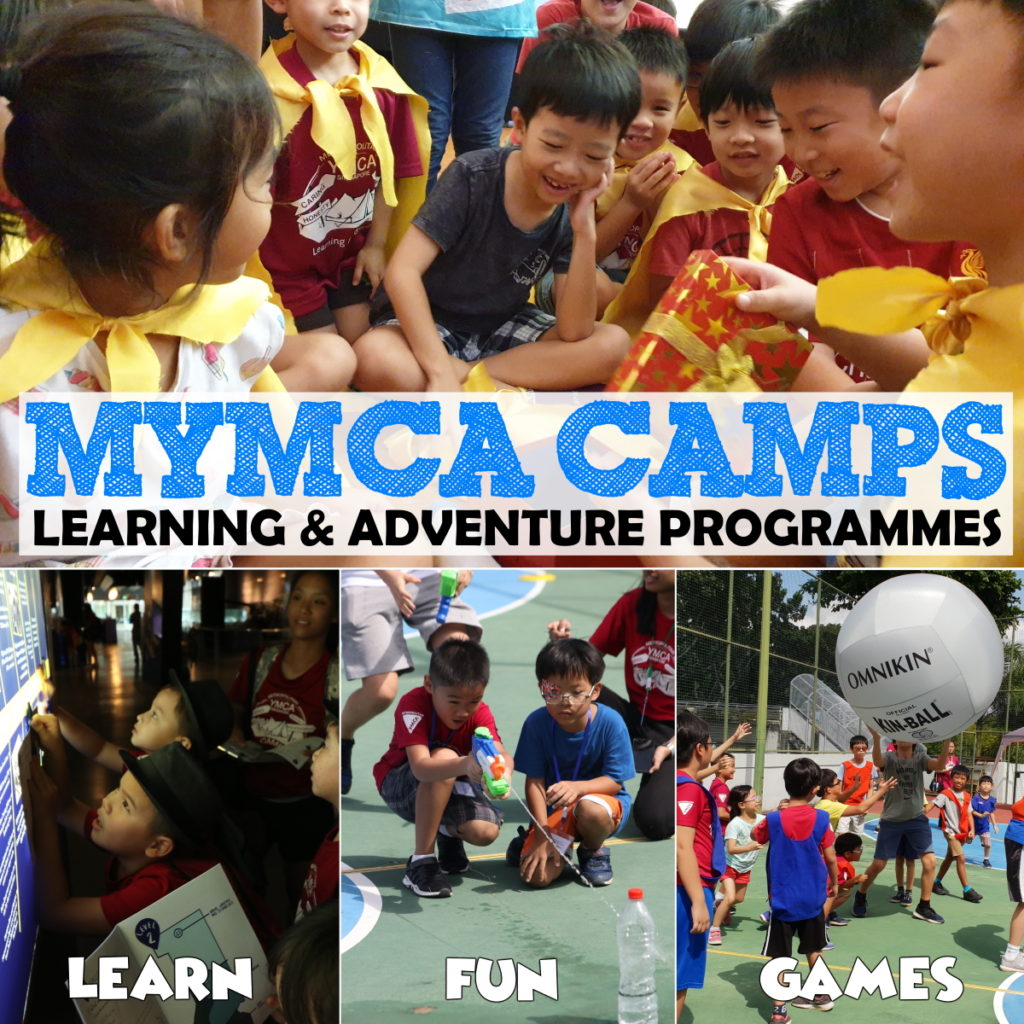 MYMCA programmes and activities are a fantastic combination of games, imagination, dances, songs, and arts and craft. Kids from 5-16 years can choose from a variety of themed camps including Superkids, FUN, Commando, Robotics and Multi-Sports. Get ready to learn an assortment of skills like gardening, map reading, pitching and striking a tent and coding and robotics to name a few. There will be movie nights, team water games, and several museums visits. In addition to having unlimited fun, kids will be taught how to care, be honest, responsible and respectful to themselves, their peers and their family. A win-win situation for all the parties involved. Winter fun here we come!
Metropolitan YMCA (MYMCA) is a non-profit charity organization and their main interest is to develop youth and to serve the community with a special interest in sports, children and families. The beautiful part about joining their camp is that parents are helping the less fortunate while the kids have a meaningful experience.
18 – 21 November: Superkids Camp 2019 (4-9 y/o), 4 days of Multiple Intelligence exploration & adventure
25 – 29 November: FUN Camp 2019 (5-13 y/o), 5 days of imagination, games and friendship
2 – 5 December: Commando Camp 2019, (7-13 y/o), 4 days 3 nights of amazing adventure and challenges
9 – 11 December: Robotics Coding Camp 2019, (9-16 y/o), Singapore first STEM + Robotics + Overnight camping!
16 – 19 December: Multi-Sports Camp 2019, (5-13 y/o), 4 days of speed, teamwork and fun!
27 – 28 December: MY Family Camp 2019, (3-60 y/o), 2 days 1 night of quality time for family bonding!
KLC is offering Adventures Camps, designed for kids to simply have some fun during the school holidays – free from the overly-structured, overly-scheduled routines of home and school. Life at camp gives kids much needed free time to learn and play – where kids can relax, laugh and learn at the same time. Themes include The Great Dinosaur Adventure, Go Wild!, Gizmo's Robot Factory, Robotics and Video-Games Creation.
When: 18 Nov – 12 Dec 2019
Where: 86 Marine Parade Central #04-301 Singapore 44086
Cost : $320.00 per week (except Robotics) $450.00 per week (Robotics)
Ages: 7 – 12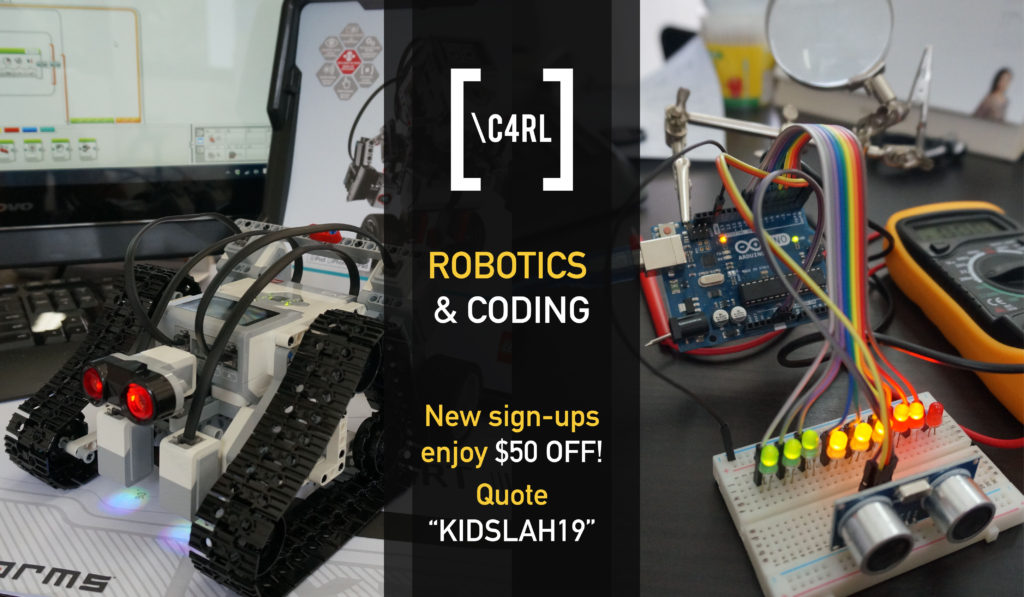 Learn Robotics and Coding with Centre for Robotics Learning (C4RL) this year-end holiday with their engaging and progressive curriculum! With small class sizes (no more than 5 students/instructor) and experienced instructors, let you child explore and excel in the world of Robotics! Whether you are looking for classes that equip your child with the skills to excel at Robotics Competitions, or electronic circuitry skills to enable your child to design and program their own self-watering plant system, Nullspace C4RL has it all. C4RL's programmes cater to children of various ages from 6 to 16 – Junior Robotics Programme (LEGO WeDo) for ages 6-8, Robotics Certificate Programme (LEGO Mindstorms EV3) for ages 8-16 and Inventor Certificate Programme (Arduino) for ages 10 and above. C4RL is located at 2 convenient locations: C4RL-WEST (Rochester Mall) and C4RL-EAST (Siglap).
Visit their Open House this 16 and 17 November 2019 at C4RL-WEST (Rochester Mall) to find out more! New sign-ups stand to enjoy $50 off, simply quote "KIDSLAH19"!
When: 4 Nov 2019 to 31 Dec 2019
Where: Rochester Mall, Siglap
Cost: Courses range from $300 to $350 (4 sessions of 2/2.5 hours)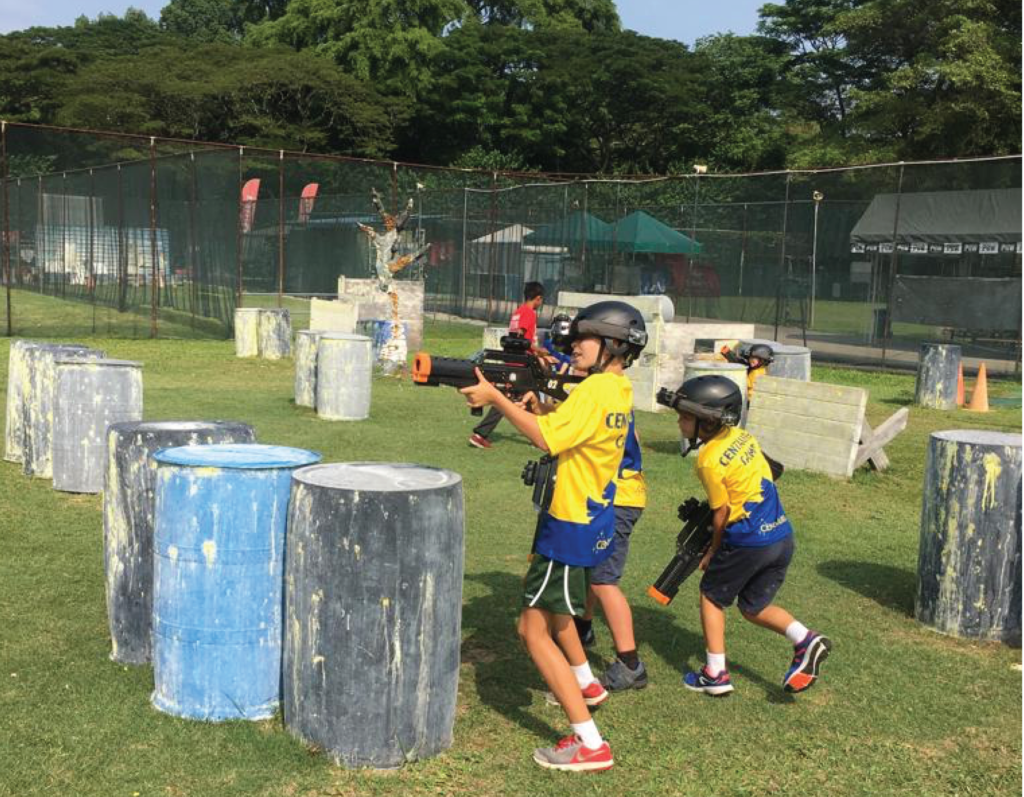 Centaurs school holiday camps are all about getting kids back in the trees and off their devices. This Camp incorporates a jungle obstacle course that tests kids on resilience and communication, has multiple sport and team challenges, includes two excursions and a mountain biking clinic! The perfect camp for high-energy kids aged 6-13. The Pre-Christmas camp runs Monday 16 to Friday 20 December, 9am to 3pm each day.
When: 16 – 20 December, 9am to 3pm each day
Where: 200 Turf Club Road, Singapore 287994
Cost: $550+ gst per child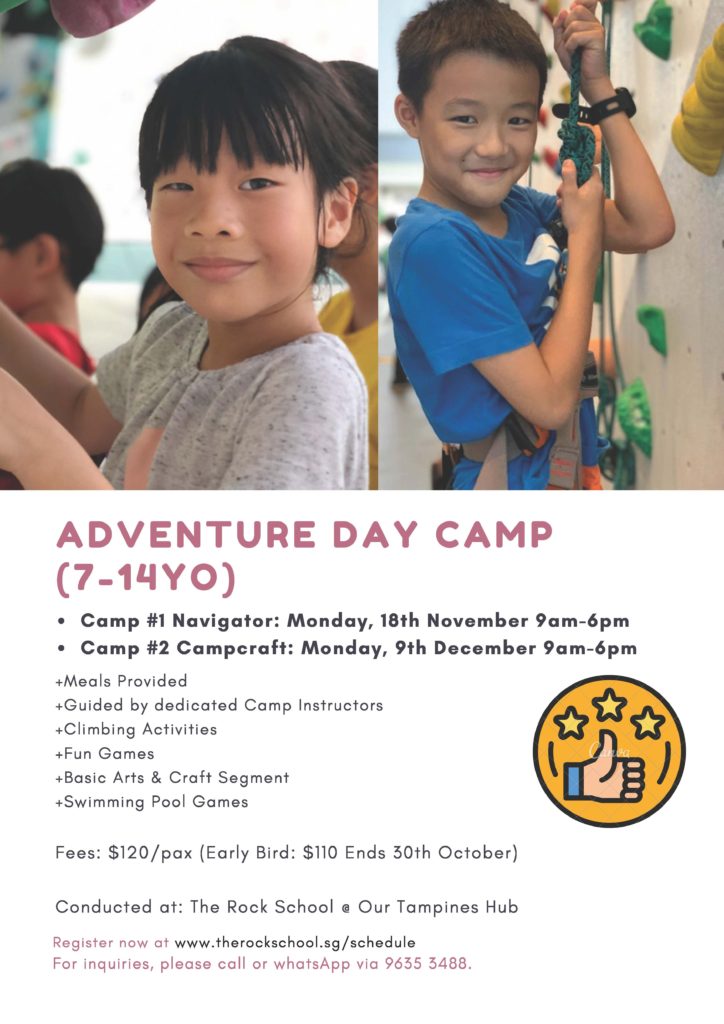 The school holidays for us are all about learning new skills, having fun and camps are just one way to do it! The Rock School's team of experienced and dedicated camp instructors aim to create a safe and caring environment for a memorable experience more than just the physical aspects of climbing.
Their holistic approach covers cognitive skills through team-bonding games and route-planning as well as perseverance and determination from our value-added activities.
Join The Rock School this November-December holidays for some rockin' good fun! Sign up by 30th October to enjoy early bird promotional rates.
Where: Our Tampines Hub, Bedok Community Club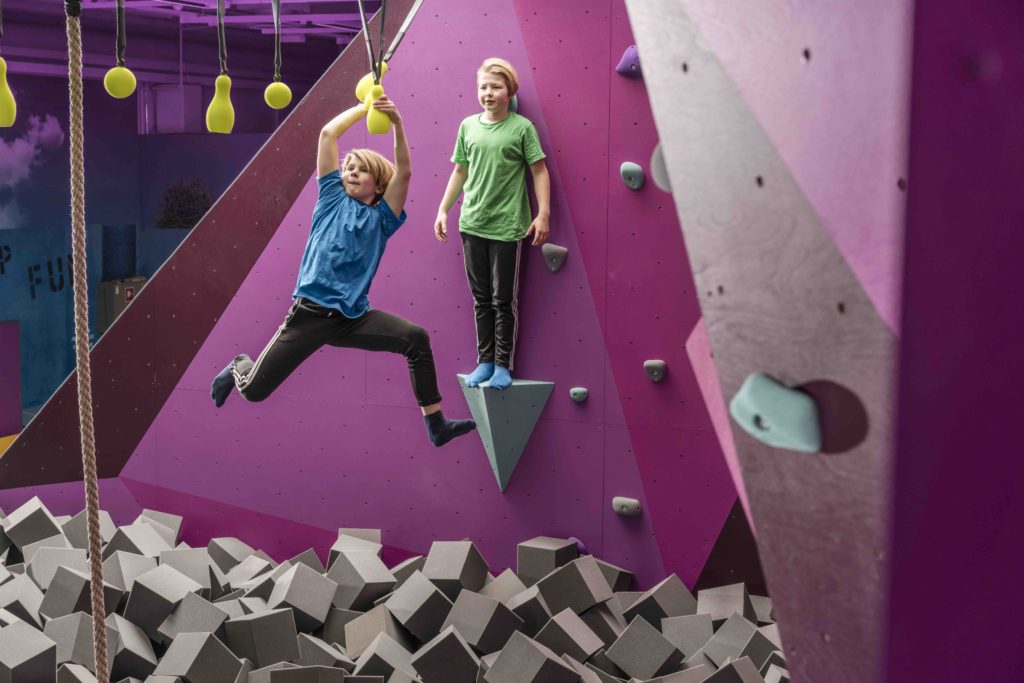 Kids 4-10 years old can now look forward to a day camp filled with more than 20 exciting activities. That means that kids get to have a go at everything from pedal car to street basketball and Ninja Track to Robokeeper. Jump on a trampoline, zip across the Flying Fox, slide across the Skate Park and give a shout as you take a turn on the Tube Slide. Walk home with a SuperPark goodie bag including camp T-shirt and SuperPark water bottle plus a full-day access pass to SuperPark after camp sessions.
When: 18 Nov – 18 Dec 2019
Cost: $268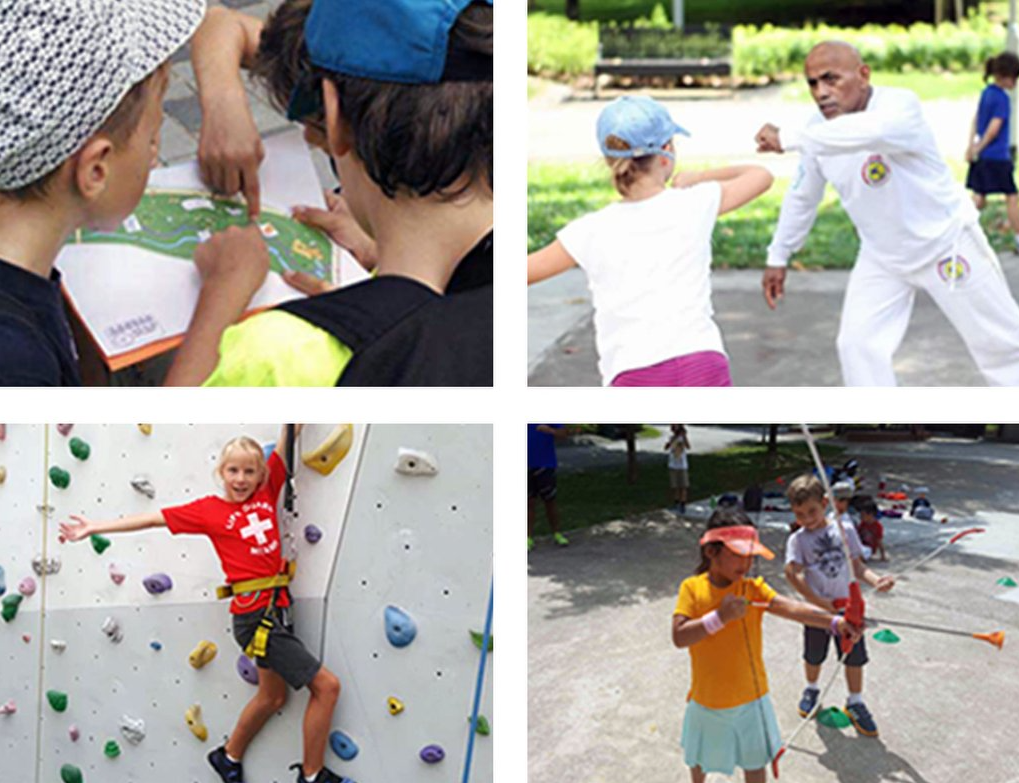 This 3-hour multi-sports camp aims to help kids 3-13 year olds develop key fitness factors such as muscular strength and flexibility and heighten skills like speed and balance. Singafit's camp itinerary includes warm ups, cool downs, and 2 small breaks ensuring kids are fully hydrated and highly energized before they storm the fields, courts and pools with confidence and determination. Kids can choose from a variety of sports including archery, wrestling, baseball, laser tag and even Commando Circuit to name a few.
When: 21-25 Oct, 28 Oct-1 Nov, 18-22 Nov, 25-29 Nov, 23-27 Dec
Price: $80-$350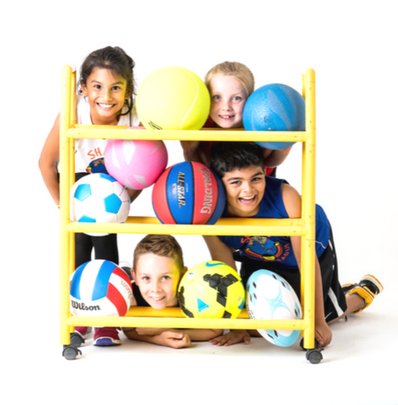 Let us introduce Singapore's longest running multi-sports camp and with good reason. Coaches at Shaws Little League truly believe in encouraging teamwork, building up confidence, instilling leadership qualities but most of all ensuring kids are having the time of their lives while getting a good physical workout. Kids (2-12) years can choose from a range of sports including volleyball, cricket, football, tennis, hockey and many many more. Holiday camps consist of 3-hour sessions over 4 days in both their Kallang and Bukit Timah locations.
When: 18-21 Nov, 2-5 Dec, 9-12 Dec, 16-19 Dec, 23-24 Dec
Price: $320
Just because it's the holidays doesn't mean you can't brush up on some good ol' study skills. We're talking problem solving, collaboration, critical thinking and creativity combined, resulting in hands-on learning which is bound to not only improve English skills but also enhance your knowledge of the world. Rest assured plenty of time will be given to fun activities, drama games and interactive presentations. Half day and full day options available. Existing British Council students can enjoy a 15% discount.
When: 18 November-19 December
Cost: $736, Add on: $540, Uniform Fee: $30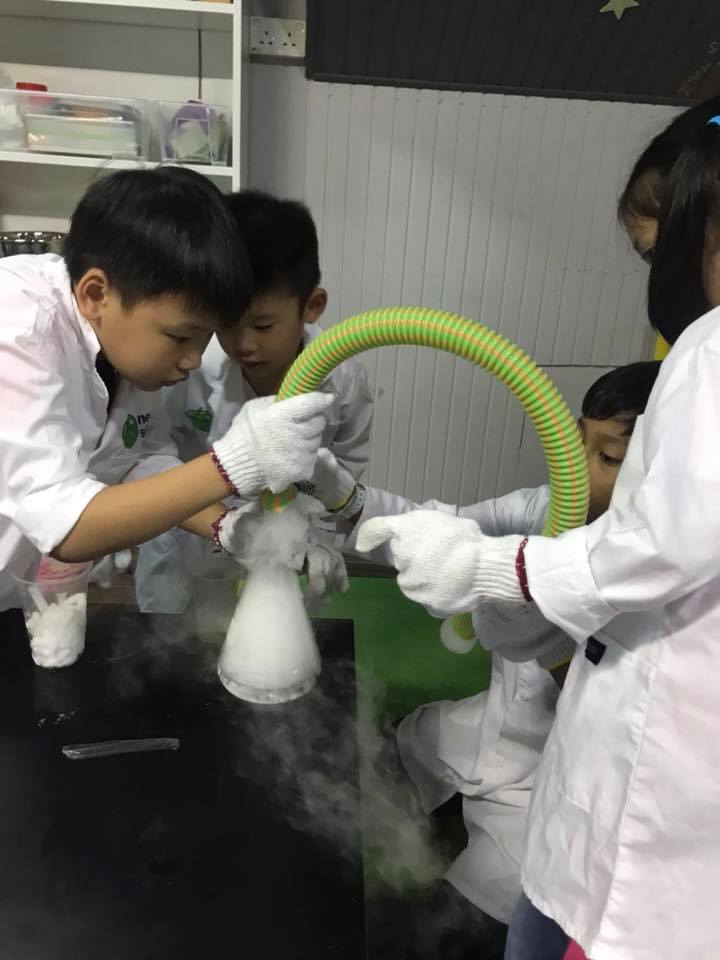 Christmas Camp at least is beginning in November. You will start the day with social interaction games, move on to some science, join in some exciting hands-on activities, take a short but sweet lunch and brain session, add on some more science and end the day with a friendly competition amongst new-found friends. Isn't it beginning to sound a lot like Christmas Camp! Optional door-to-door transportation is available as well.
When: 25 Nov-10 Jan 2019
Cost: $630
The name says it all. Sign up your future Chemists for holiday camps at Mad Science, which this year has partnered with Kids Amaze. With titles likes Underground Exploreres, Flight Academy, Junior Occupations and Moving With Science, kids can look forward to hands on chemical experimentation resulting in fascinating and unexpected results. Over the week, students will be building bird feeders, digging minerals, erupting volcanoes, creating bottles in clouds, studying bone fragments, investigating the wonders of flight and make your very own crystal gardens just to name a few. Let the madness begin!
When: 25 Nov-20 Dec
Cost: $650
Sometimes kids can't decide whether they want to dabble in a little coding, learn the tricks of Chess or master the ways of LEGO. This is where Genius Assembly's holiday camps come into play. Opt for either 2-day intro workshops or plan to stay the whole week doing. Either way, you'll have a swell of time planning, building and executing your moves while making new friends.
When: 18 Nov-27 Dec
Cost: $80-$260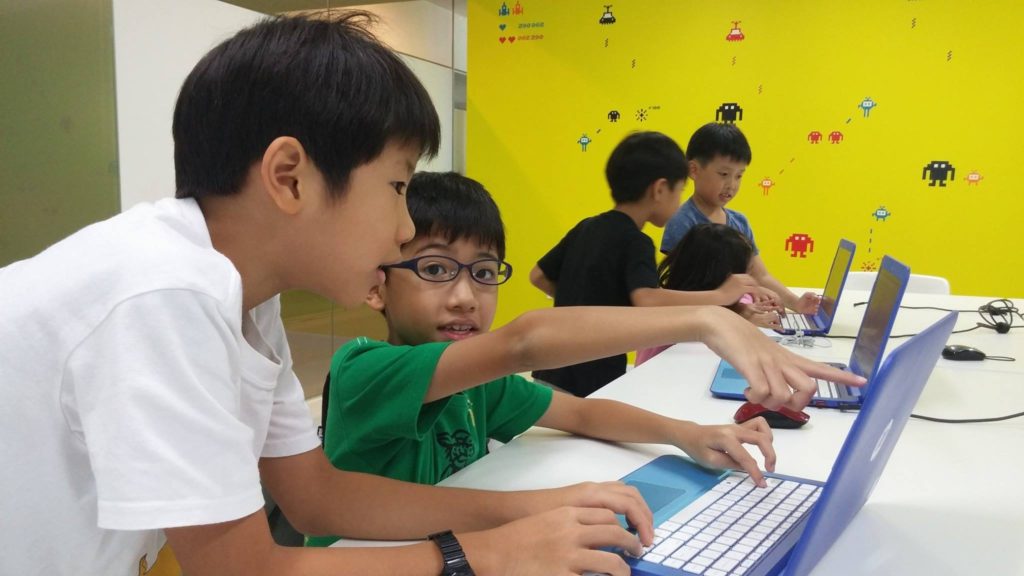 Over the course of 5 days, kids will not SCRATCH the world of coding but be able to dive deep into it. In both ScratchJunior Coding (6+) and ScratchJunior Thinker (6+) kids will learn programming concepts, computational thinking and create a coding portfolio noting daily projects. PythonThinker Coding (11+) is the next level for kids who are familiar with Scratch. Students will be able to practice Python in the Minecraft world and build foundational skills to use in real-world projects. Take advantage of the Early Bird Special when you sign up before 28 October and get a 15% discount!
When: 4 Nov-22 Dec
Cost: $102-$502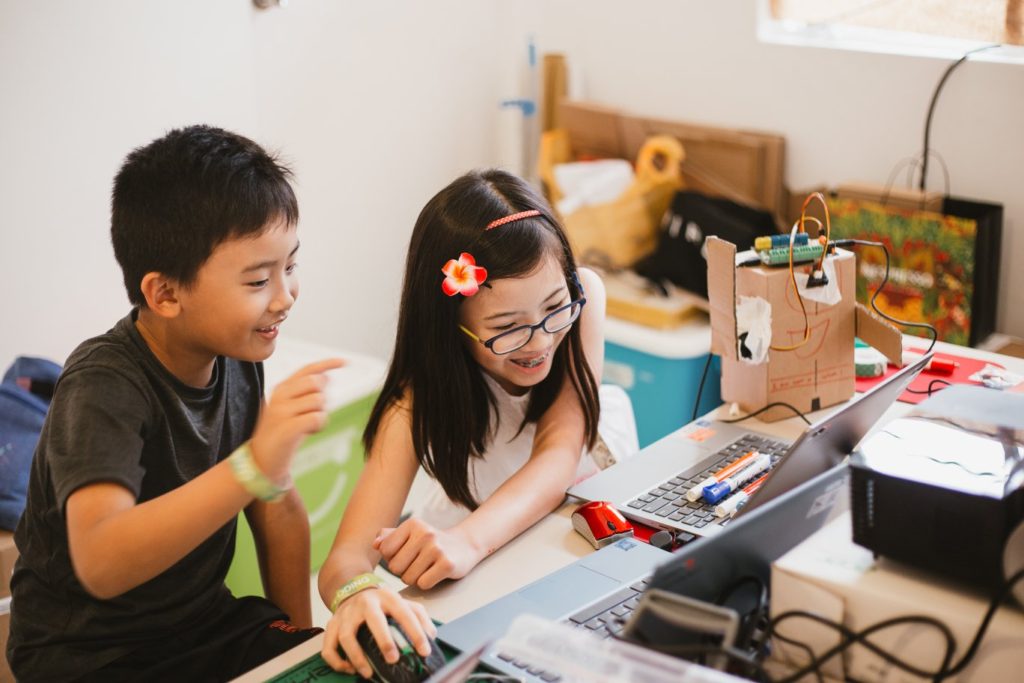 Saturday Kids' holiday camps and workshops continuously engage kids 5-14 years in a range of fun and exciting projects while developing important problem solving skills. In Curious Cubs: Explore the Wonders of Tech and Tiny Techies, beginners can learn to programme a robot and code a game with absolutely no prior experience. Older kids can venture into the world of engineering through Marvelous Machines & Mechanisms, delve into the art of Making and tinkering to create your own unique invention and even get a chance to learn and create in the virtual world through Paint in 3D with Tilt Brush by Google.
When: 16 Nov-28 Dec
Cost: $150-$660
Let your kids learn the art of cooking and walk away with one amazing and memorable childhood experience. This culinary camp runs over 3 days and covers global cuisines including Japanese, Italian and Cantonese. You can either opt for 1-day or send them for all 3 days depending on their interest and enthusiasm. Looking at the holiday program's scheduled activities, we have a feeling the longer option will be most popular with the little aspiring Masterchefs!
When: 18-20 Nov and 17-19 Dec
Cost: $158-$380
Come November, Stage Camp by SRT is excited to bring you some more interactive workshops. Kids 4-6 years can sign up for The Gingerbread Man where they will engage in drama, craft and musical activities culminating in a presentation for friends and family. 7-9 years olds meanwhile can enroll in How the Grinch Stole Christmas where they will get a chance to use actor training, theatre techniques and practice drama and poetry skills to result in a finale presentation in front of their loved ones. 10-12 year olds will take part in A Christmas Carol where they will build up on experience theatre and take part in actor training exercises including developing stage prescene, vocal skills and understanding stage directions.
When: 18-22 Nov and 25-29 Nov
Cost: $330
Public speaking has been known to be one of the biggest fears. Let your child overcome this fear early on. Through hands-n lessons taking place both indoors and outdoors, highly experienced and qualified trainers will assist kids on how leaders think, speak and inspire others. At the end of the camp, students will get to bring home a DVD acknowledging their public speaking journey and success.
When: 27-28 Nov, 4-5 Dec, 11-12 Dec, 18-19 Dec
Cost: $550
This multi-activity camp has a wide range of activities available for kids 3-12 years. So whether you've got budding coders, energetic athletes, striving dancers, inquisitive thinkers, passionate performers or all of the above, Discovery Camps is sure to have something for everyone. Kids will get to develop a broad range of skills in a short span of time and get this, they'll be having a blast the whole time. Bonus: lunch and morning snacks are delivered daily by a Michelin Star Celebrity Chef. Holidays don't get any better!
When: 18 Nov-10 Jan
Cost: $625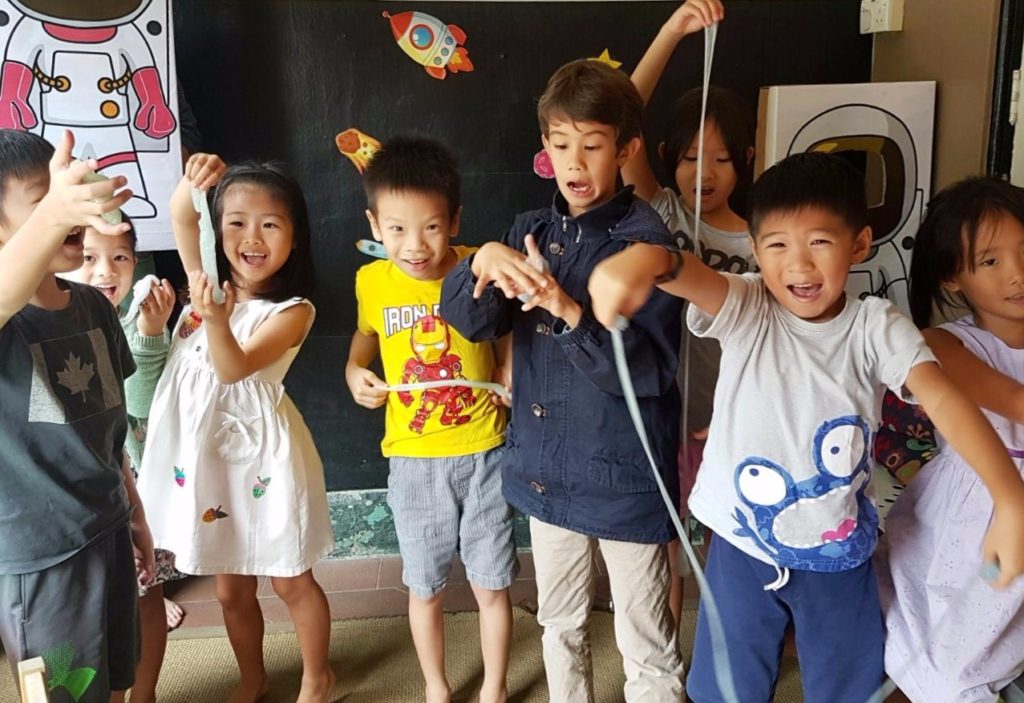 Trust The Little Executive to make P1 Prep fun and interesting. This holiday camp offers to take away all the fear and boredom away from learning essential skills in order to thrive in your big, new environment. Focusing on issues such as problem solving, independence, money sense, leadership, communication and both classroom and social skills, this 2-day workshop will have your kids charging their way into primary school. And here's what? You get 10% of if you bring 2 more friends so rally up!
When: 28-29 Nov and 17-18 Dec
Cost: $580