We may be well into December but Christmas fever is only on the rise. Don't fret if you've missed out on a horde of activities because there's plenty more where that came from. From Christmas concerts to festive markets and old school carnivals to new-age performances, December in general and Christmas in particular will be a memorable experience for everyone in Singapore. Check out fun things to do with the kids over the December holidays!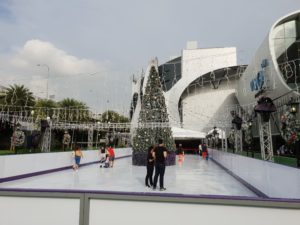 Reminiscing a true blue American Christmas? Well, it doesn't get much more iconic than New York City's ice skating rink at Rockefeller Centre. Taking its cue from there, Vivocity has transformed its outdoor plaza into a beautiful ice skating rink featuring an 8-meter tall Christmas tree. So don your skates, book a session and get ready to churn out some figure 8's to some foot-tapping Christmas tunes. Of course you're welcome to just watch from the gallery as well.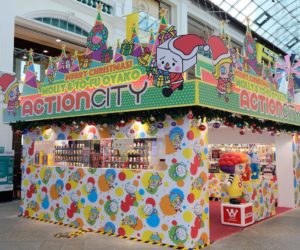 Just follow the gigantic 10-meter tall Christmas tree-shaped centrepeice at Bugis Square and you will have arrived at the festive market. Shop till you drop for goodies, toys and accessories as you munch on delectable treats. Try your hand at some old school carnival games while you're at it.
Food, music and cultural activities galore will welcome both adults and children in a weekend series throughout the end of the year and well into next year. Enjoy various games and cultural performances in the bustling neighborhood around Bussorah Street.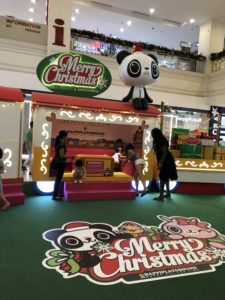 Join the fun loving characters of HappiPlayGround as they set out on an exciting journey to Santa Village. Enjoy a quaint tea party with the cute and cuddly characters and don't forget to take photos with the mascots. Decorate your very own Christmas ornaments at the workshops and then belt out some traditional Christmas tunes at the Happi Caroling session.
What better place to enjoy winter in Singapore than Snow City itself! And during the school holidays kids are in for a real treat as they can expect to go on an exciting adventure with Hansel and Gretel. From enjoying snow blizzards to listening to thrilling story telling sessions and making magic potions to posing for pictures with the story characters, there's bound to be entertainment for everyone. Now this is the way to get into the winter spirit!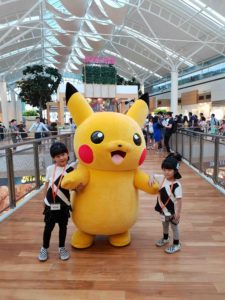 Although its name rhymes with a sneeze, this beloved Japanese anime character is anything but a nuisance. And as Christmas rounds the corner, M Malls which includes AMK Hub, Jurong Point and Thomson Plaza will all be promoting an exciting Pokemon-themed Christmas packed with fun-filled activities and performances where Pikachu and friends will have you celebrating like never before.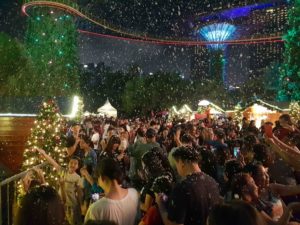 This much awaited event is fast becoming a Singapore tradition. Where else in this tropical country would you be able to watch the snow fall and sip on mulled wine as you watch the kids build snow castles and try figure eights on the ice rink? Get ready to be dazzled at the illuminated fairgrounds, make your wish at South East Asia's biggest Santa's Grotto, have a go (or 10) at the countless carnival games and rides and enjoy delectable festive treats. A Christmas to remember is coming to THIS town!
Enjoy a hip and happening Christmas at one of the trendiest neighborhoods in Singapore. Tanjong Pagar Centre will be offering bright colours, festive performances, handicraft workshops and much more to keep the entire family celebrating. Local artists and performers will be attending to keep the cheery atmosphere going while a host of kid-friendly activities will have the little ones yelling hullabaloo alright!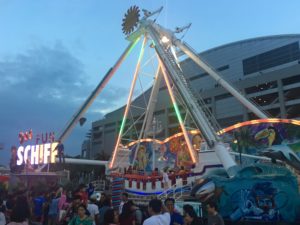 Calling all the young (and young at heart) to Marina Bay as Singapore's largest carnival returns! With an ample number of thrilling rides including The Star Tower, Cyclone Coaster, Log Flume and Pirate Ship and some new ones directly imported from Europe, get ready to scream to your heart's content. Be sure to visit all the game stalls in between all these fun rides. Fuel up with classic carnival snacks like churros, curly fries and popcorn. Enjoy an eclectic line-up of live music performances covering everything from pop, hip hop and groovy Christmas tunes of course.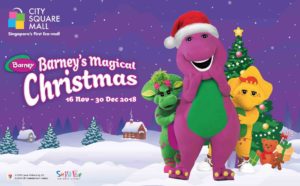 What's not to love about this friendly purple dinosaur especially when he's got a Santa's hat on? Don't miss Barney's Christmas-themed performance with his loyal sidekicks BJ and Baby Bop at City Square Mall where parents and kids alike are sure to dance and belt along to all-time Christmas favourites. Be sure to stay for the impressive visual lights display and the popular meet and greet sessions.
Start getting into the Christmas spirit with fun craft activities at SAFRA Mount Faber. Beginning, 24 November, every Saturday will offer a new surprise for kids and adults alike. Enjoy delicious snacks like coloured popocorn and rainbow ice balls to entertaining happenings like creating your own Christmas terrariums and personalizing bookmarks.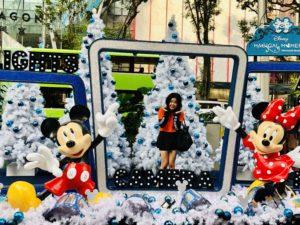 See Orchard Road in a new light. The entire stretch is lit up with thousands of fairy lights, Disney's most popular characters will be doing a walkabout, Santa's Meet and Greet session will be open for service and there are rides galore at the Christmas Village which is also filled with delectable treats. Stock up on gifts at the numerous pop up stores, don't miss a photo-op with your favourite Disney star or just stand back and enjoy one of the many live performances of the night.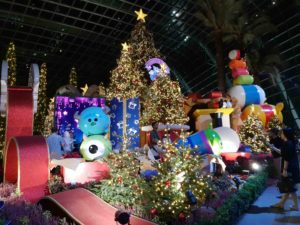 If the impressive Christmas floral display at Gardens by the Bay isn't enough to attract you, how about a little Disney Tsum Tsum magic? Join Mickey, Olaf, Dumbo, all their pals and a whole bunch of fairy lights and festive baubles at the tallest live Christmas tree in the Flower Dome. Holiday spirits will be at their peak as guests participate in ribbon fun, bauble painting, holiday cheer and presents for all. A Happy Christmas indeed!