Holidays are a great time to pick up a new sport, fine tune an old skill, work on an existing passion or hey, just get out there and have some fun. As always Singapore is ever ready to offer up some educational and entertaining activities for kids of all ages and interests so browse our shortlist of the most exciting and fun September Holiday Programmes over the school break: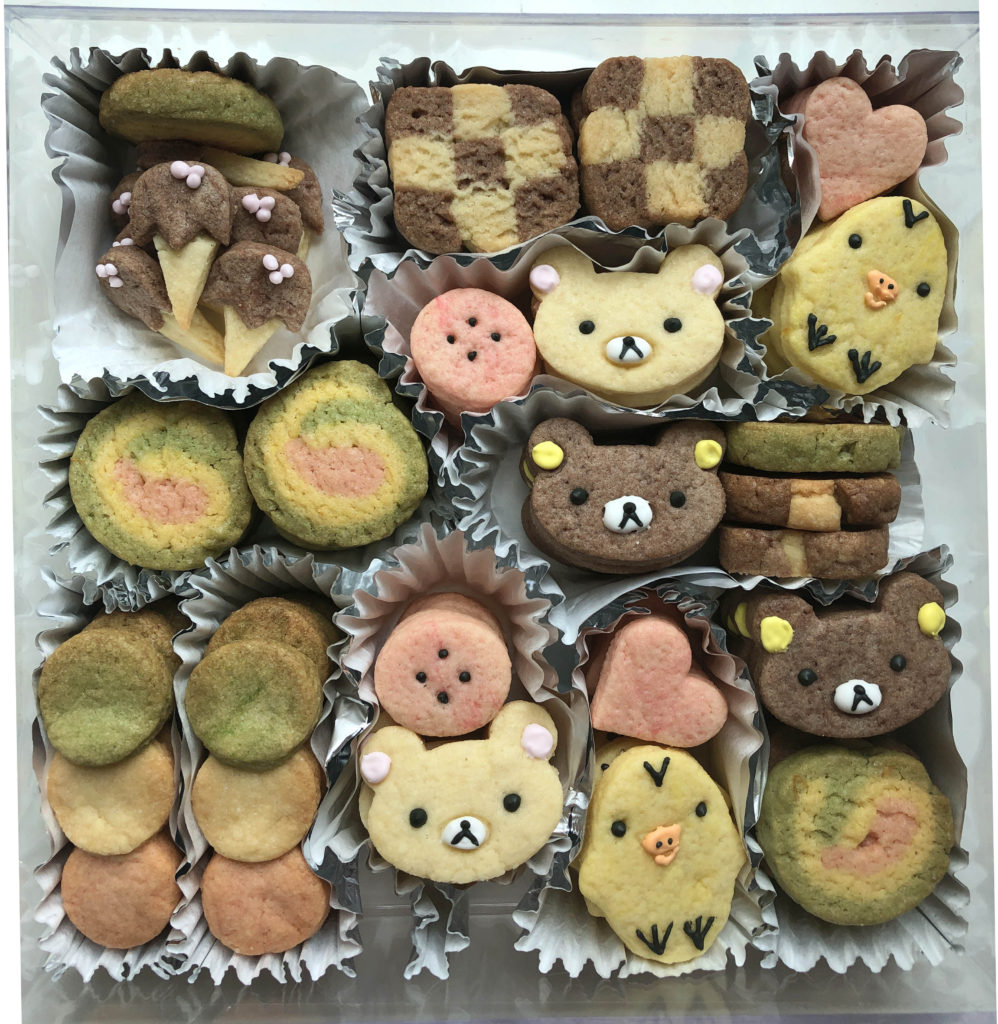 Let's have a bit of fun in the kitchen this school holiday! This pretty set of cookies features Rilakkuma, Kolirakkuma and Kiiroitori, and other small cookie shaped as buttons, ice creams and dango. You will learn how to work with cookie dough in different colours to shape the cookies. You will also learn how to decorate the cookies with simple royal icing dot techniques. Each parent and child pair will make a complete gift set of cookies to take home in a gift box.
What you will learn:
• How to make cookie dough with flavour variations for chocolate, green tea, strawberry, lemon and vanilla.
• How to roll and shape dough to make Rilakkuma cookies
• Simple techniques for decorating cookies with royal icing
When: Friday 13 Sept (10am – 1pm) / Saturday 14 September (2:30-5:30pm)
Where: 21 Simon Road, Singapore, 545907 (near Kovan Station)
Cost: $80 per pair (one parent and one child) + $15 for an additional child joining a pair +$20 for an additional adult joining a pair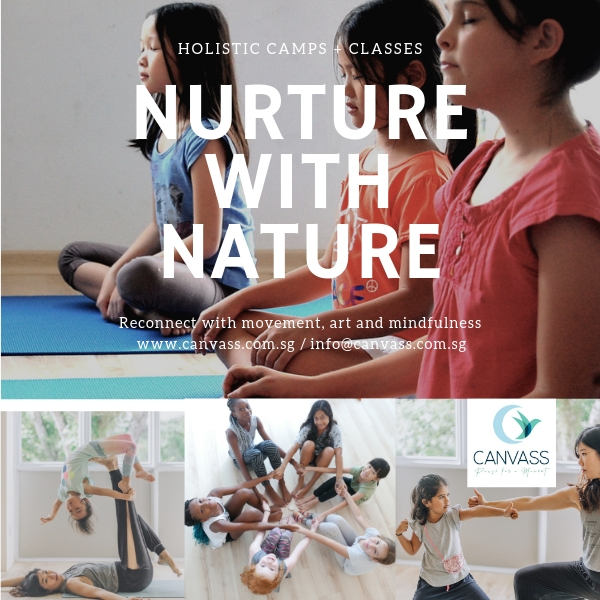 Canvass Holiday camps are a unique, award-winning combination of art, movements and mindfulness. Have fun with nature – explore painting and be inspired by nature, finding the sea and sky through exciting movement and mindfulness using our bodies and minds. There is something for everyone!
Combing art, story-telling and movement exercises to engage both body and mind – then putting poses together in a sequence. We also teach non-verbal ways of self-expression, with mindfulness and gentle breathing exercises to nurture the self to be calm, focused and centred. Creative art mediums are explored to strengthen the learning experience. What a wonderful sensory exploration!
Join in either for one day or for a full week and choose from morning (9-12) or afternoon (1-4) sessions.
Book in advance for a week and save 10% by quoting kidslah2019 – email [email protected] for bookings and enquiries.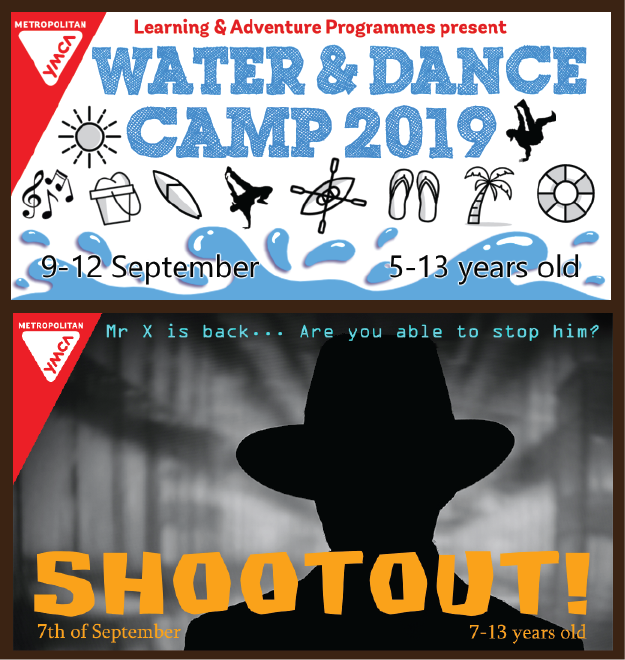 September camps usually offer condensed versions of their regular activities due to the shortage of time but Metropolitan YMCA has no such qualms. Which is why this break kids can choose from one of TWO exciting options. 5-13 year olds, get your swimsuits in order for the Water & Dance camp will have you soaked at all times whether its surfing at the Wavehouse, kayaking at Marina Bay or blasting through rides at Wild Wild Wet. Your older siblings are probably turning green with envy by now so let's talk about the incredible 1-day Shootout Camp (1-day) for 7-13 year olds. Get ready to fight crime and defeat Mr. X through a series of action-packed moves. Show off target skills at a mini-Archery game. And if for any reason this may not be enough excitement there will be plenty of NERF and Laser Tag missions as well. Watch out boredom!
When: 9-12 September (Water & Dance Camp), 7 September (MY Shootout)
Cost: $350-$450 (Water & Dance Camp); $100-$150 (MY Shootout)

Calling all tiny tots and little kids to show off their drama skills. In ACT 3's September workshops, inspired by The Little Prince's charming tale about a little boy's "out-of-this-world" journey, kids 7 months – 7 years will learn to not only incorporate drama tools, but learn to speak confidently in chorus. Like Shakespeare said, "All the world's a stage."
When: 5-29 September
Cost: $300
For kids who love all aspects of visual arts including mixed media, painting, drawing, ceramics, sculpture, weaving and more, these camps are ready to take them on an exciting and expressive journey. In their special September series, learn to create beautiful wearable art costumes inspired by the colours and textures of nature. Camps run for up to 4 days but you have the option of choosing even 1 or 3-day programmes. Lessons are 3 hours a day, in the morning for kids under 9 and in the afternoon for kids 9+.
When: 9-12 September
Cost: $300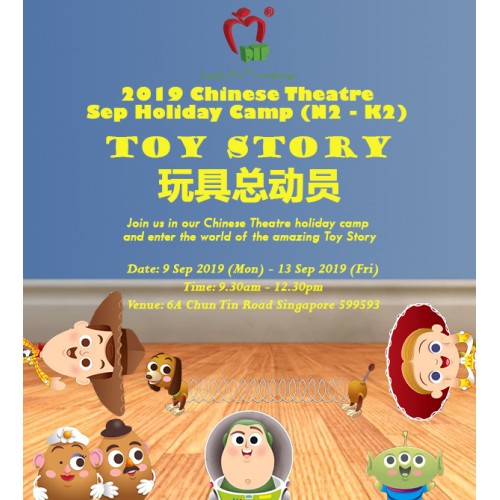 Disney and Chinese theatre might seem like an odd combination at first but kids are sure to enjoy this unique journey. Taught by qualified and enthusiastic instructors, kids 4-7 years will enter the amazing world of Toy Story through a whole new world. Packed with fun activities, little ones will be introduced to props making and drama skills through fun and games over the course of this 3-hour, 5-day camp. Parents can look forward to a mini presentation at the end.
Date: 9-13 September
Cost: $300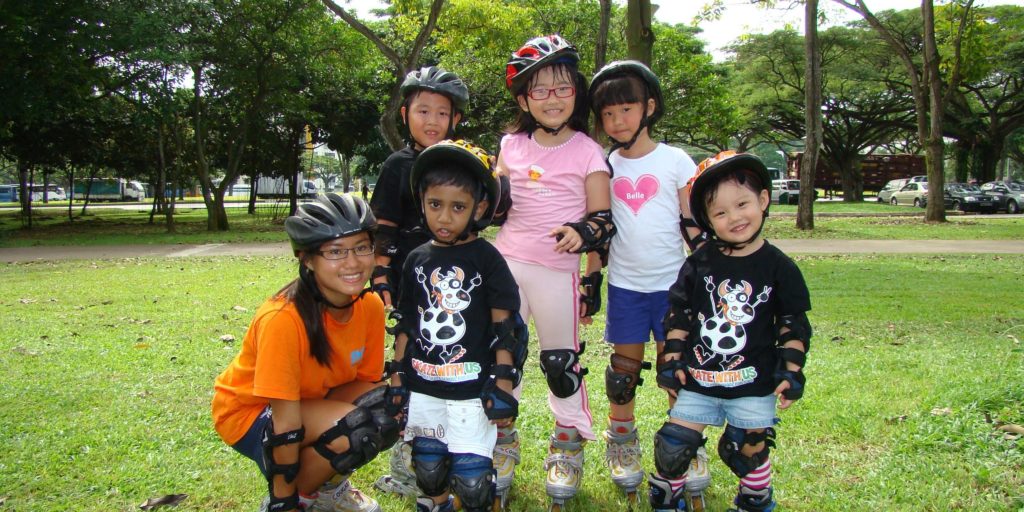 School's out so take advantage and head on outdoors for some fresh air. While you're at it, why not pick up some skating skills? We're talking about Skate with Us' Monster on Wheels camp. This is the only skate school in Singapore which has a Born to Skate syllabus for children as young as 3 years old. Lessons have been carefully researched and catered to teach young kids not only the essentials of this tricky sport but to enable them to have an awesome time while doing so. Opt for either half day or full day camps and choose from one of 3 locations (Bishan Park, West Coast Park, East Coast Park).
Date: 9-12 September
Cost: $198-$568
If you are looking to help your kids (3-12 years) become high ability learners and aspire to be top scorers then this is the programme for you. Kids will get to review challenging concepts through stimulating holiday activities. From creative writing to Shakespearen English and Olympiad Math to Direct School Admissions assistance, they've got all this and more covered. Get a headstart on tomorrow today!
When: 10-13 September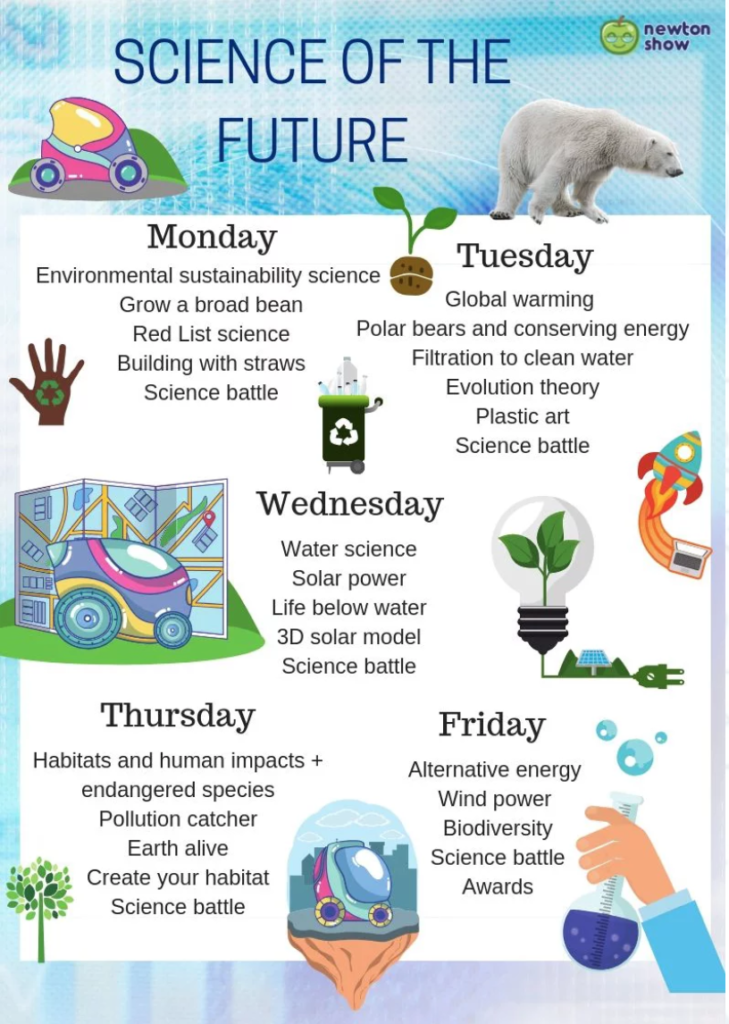 Where there is mention of science, Newton Show is bound to make an appearance. Their camps are not only educational but also filled with fun and hands-on activities for kids between 3-12 years old. With "Science is the Future" as their theme this season, campers can expect a wide range of experimental excitement covering everything from growing broad beans to water filtration and solar power to pollution catchers. Parents can look forward to the daily videos to see what their little scientists were up to!
When: 9 Sep-25 Oct
Cost: $630

Keep kids busy and healthy during the school holidays by letting them enrol in the Proactiv Sports (previously Sports4Kids) Multi-sports camp. Qualified and passionate instructors will walk (or run) your little ones through an action-packed week filled with not only all kinds of sports but also arts & crafts, Lego, and many team building games as well. Time will surely fly by when they are having fun!
When: 9-13 September
Cost: $475 per week
Become friends with the world of technology through eye-opening experiences at The Lab. Open for kids 8-16 years, these workshops are focused on introducing the concepts of digital story-telling and animation through various games, challenges and exercises. In the afternoon session, campers can look forward to exploring the exciting world of an aerodynamics engineer. Did somebody say Drone Flying?!
When: 11-12 September
Cost: $150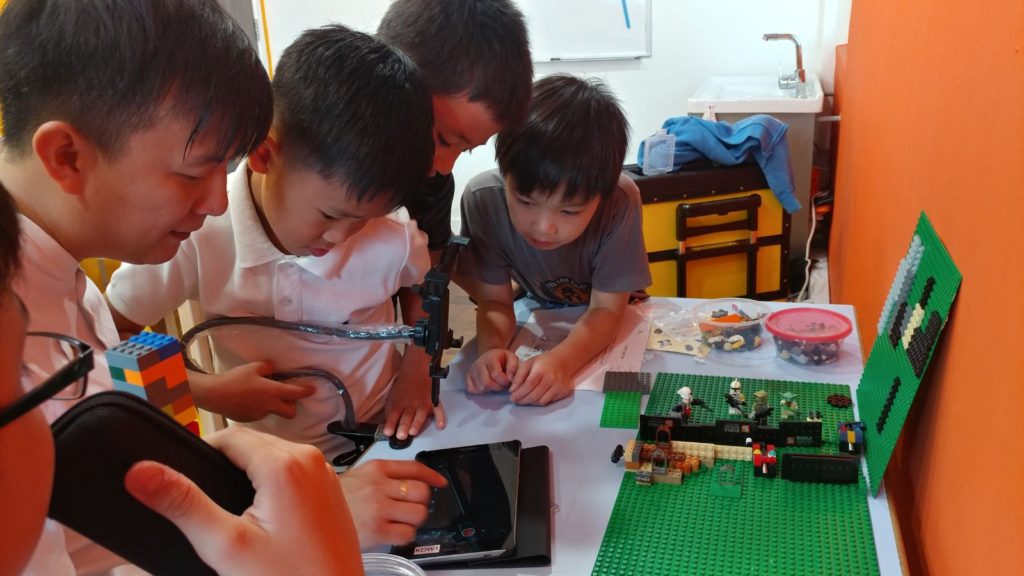 STEM and Kids Discovery Works go hand in hand. If you're looking for your kids to engage in fun yet educational hands-on science experiments, look no further. KDW camp options include SuperHero Science and Whizz, Pop, Bang where little ones can discover difficult topics like Newton's Laws of Motion and aerodynamics through exciting STEM missions involving slime, dry ice and other forms of "ooey gooey fizzy fun." Robotics fans who would rather design and program bots and vehicles can choose Lego Jurassic World and Battlebots Robotics.
When: 9-13 September
Cost: $304-$456
Let us introduce Singapore's longest running multi-sports camp and with good reason. Coaches at Shaws Little League truly believe in encouraging teamwork, building up confidence, instilling leadership qualities but most of all ensuring kids are having the time of their lives while getting a good physical workout. Kids (2-12) years can choose from a range of sports including volleyball, cricket, football, tennis, hockey and many many more. Holiday camps consist of 3-hour sessions over 4 days in both their Kallang and Bukit Timah locations.
When: 9-12 September
Cost: $320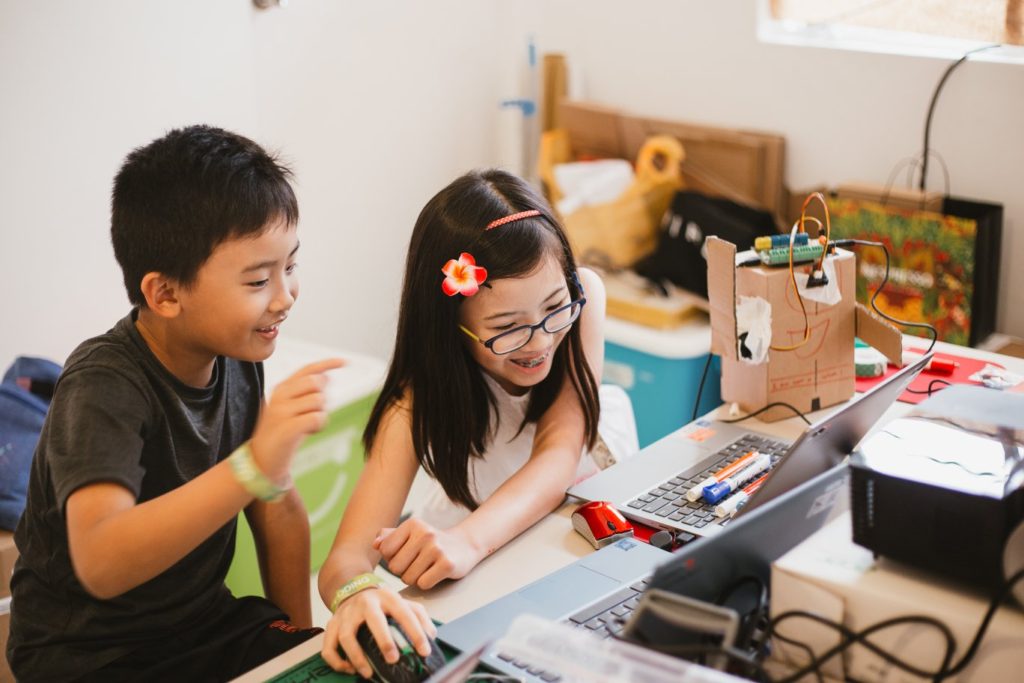 Saturday Kids' holiday workshops will engage kids 5-13 years in a range of fun and exciting projects while developing important problem solving skills. Beginners can enrol in either Curious Cubs: Explore the Wonders of Tech and Start with Scratch: Adventures in Time. Older kids can enrol in Become a Rock Star Code DJ and Animate with Scratch: Journey Home with Bear and have a go at assembling their computers and coding music animations and even building their own robot animals using robotics.
When: 7 September – 25 October
Cost: $530
Didn't find what you were looking for? Browse our September Holiday Camps directory!
You may also enjoy reading: